10 Reasons Why You Should Choose Us
Long-lasting Products
Dyert e garazhave seksionale janë produkt i veçantë të bëra nga panele polyretan në gjendje të funksionojnë për një kohë të gjatë pa ndonjë prolem. Për këtë,  Behari përdor vetëm materialet më të mira të çertifikuara.
Excellent Design
Çdo derë e garazhes nga BEHARI është e dizajnuar të mbuloj të gjitha nevojat tuaja. Kualiteti i lartë i operimit, gama e gjerë e ngjyrave, gama e gjerë e modeleve janë vetëm disa nga arësyet pse ju duhet të zgjedhni dyert tek ne.
Security
Një nga çështjet që e brengos blerësin e një dere është gjithmonë siguria e saj. BEHARI kujdeset dera e prodhuar të jetë nga çeliku i galvanizuar që e bënë të sigurt dhe mban larg vizitorët e paftuar.
Thermal Insulation
Panelet tona lejojnë humbje minimale të nxehtësisë në ambientin e jashtëm dhe si rezultat maksimum në kursim të energjisë. Ndihmon që ndërtesa të mbahet e nxehtë ne dimër dhe e freskët në verë.
Fast Delivery
Duke pas parasysh numrin e stafit, përvojën e gjatë në treg dhe lokacionin e prodhimit në qendër të Kosovës, BEHARI siguron që nga marrja e masës bazuar në kërkesat e konsumatorit dera mund të arrijë të vendoset në kohën më optimale.
Who are we?
BEHARI is a specialized company in the production of resiedential and industrial garage doors.
Beyond this, we produce garden doors, motorise existing garden doors. Aluminium glas facades and offer also entrance doors for houses and buildings, interior doors and many other products mainly used for household and especially garden products.
With the factory in the center of Kosovo, in the Industrial park only 5km from the Airport, with an area for production and storing over 3500 m/2, we are the largest manufacturer in the country offering our products not only for final costumers but for many other construction and project companies as well.
With a very specialized staff with over 50 regular employee and many others in projects, we managed that our products not only occupy Kosovo market but export in neighbor and EU countries, especially in Swiss market. On behalf on tis, we have a good network of partners especially those invoilved in construction and projects.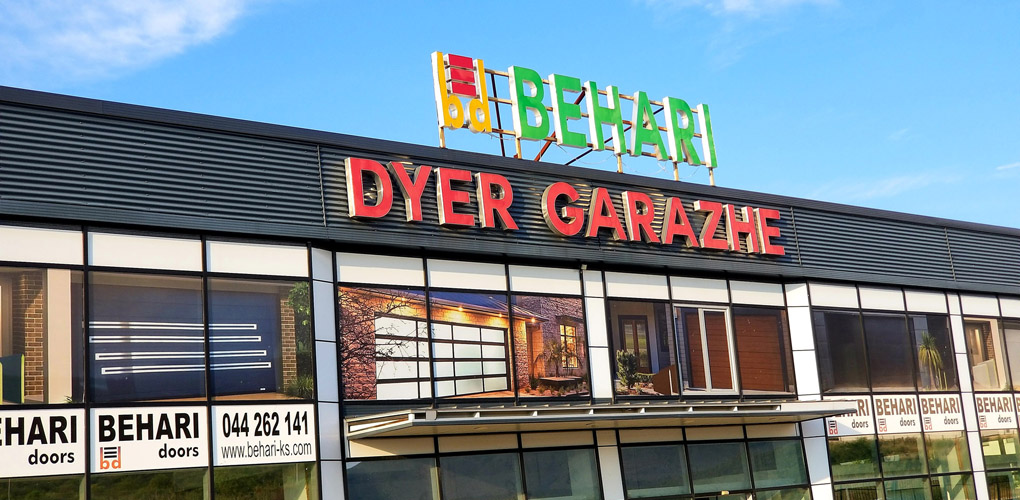 Behari Company on the show 'Believe In Me'